Big Data challenges in tele-healthcare
Covid-19 pushed the boundaries of both healthcare and technology providers, and nudged people to finally embrace telehealth services.

In fact, telehealth has proven to be the next frontier for the healthcare industry as it minimizes the need for in-person patient, clinic, or hospital visits which prevents overwhelming our healthcare systems.

A McKinsey report shared that the use of telehealth in the US in 2021 surged 38 times compared to pre-pandemic levels.

Big Tech companies (Amazon, Microsoft, Google) have all started expanding to service this segment. Amazon alone has many telehealth models includingAmazon Care, Amazon Dx and Amazon pharmacy.
Meeting the patient wherever they are, with whatever they need
However, in order to provide appropriate medical diagnosis without compromising health outcomes, we must remember that telehealth relies heavily on big data and that data needs to be protected. Such data includes the transfer of text, reports, voice, images and video, between geographically separated locations. This means there's massive amounts of structured and unstructured data rapidly generated, accessed and transmitted from a variety of sources.
Here's what happens to the data accessed for a typical patient seeking medical care: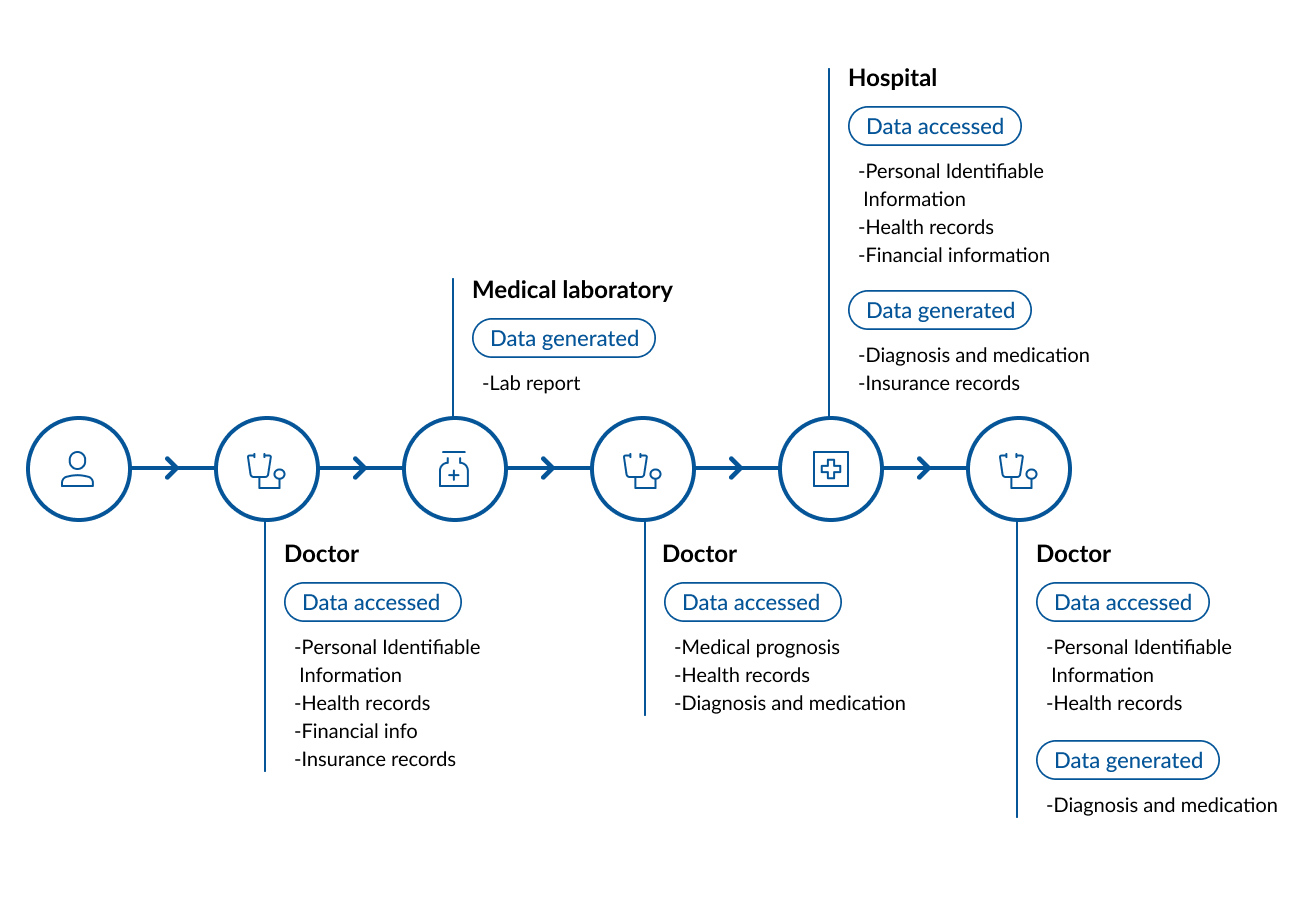 Given how often data is accessed during telehealth services, and how much personal information is available, the risk of a data breach is high and there are several challenges the industry needs to overcome in order to ensure patient privacy is not at risk.
Challenges to Personal Privacy and Security for Healthcare
Prevent Data leaks from unauthorised personnel
With so much personal identification information required, including financial information and health records during each interaction with a doctor, our privacy is at stake. Healthcare organisations need to consider what personnel access restrictions are in place to ensure patients' personal information is being collected, shared, and utilised in the right ways.
Ensure Data stored is inherently secure
Providing medical advice via teleconferencing means the doctor relies heavily on electronic medical records, hence they will need to have access to various patient records which may involve their personal information, medical lab reports, past health records, pharmaceutical prescription records, and bank information. With data lying in so many different databases, it will be difficult to ensure that robust access controls are in place, and there's protocols for the authorised usage of such information.
Unregulated Data security on 3rd party devices and apps
Remote health monitoring relies on smart devices and health apps to monitor health progress. These smart devices provide real-time data on vital patient measurements such as blood pressure and heart rate and they can keep individuals out of the hospital while still allowing doctors, patients and caregivers to track the patient's overall health. Healthcare apps also allow us to monitor our own health so potential health problems can be detected and diagnosed early. The problem is, there's a high likelihood of security gaps when Data is stored on these third party devices and applications as they are largely unregulated.
Telehealth is largely unregulated
Although the Health Insurance Portability and Accountability Act (HIPAA) enacted in 1996 was meant to protect sensitive patient health information from being disclosed without their consent or knowledge, current laws do not adequately cover the telehealth environment. In fact, with the increased need for tele-healthcare and in light of the current COVID-19 pandemic, the Office for Civil Rights (OCR) relaxed some of the enforcement actions to compliance. As a result, a health care provider provided services in good faith will not be penalized for violations of any of the HIPAA rules, including breach notification requirements. There is thus a large security and privacy risk.
Overcoming Privacy and Security Risks in Telehealth
For telehealth to succeed, privacy and security risks need to be addressed so that providers and patients can trust the system and make full use of the service available . But we need to acknowledge that with health apps, medical devices, teleconferencing platforms and the multitude of databases storing our information, there are just too many access points for data breaches to occur. If we consider the very real possibility that the Data captured by these health apps and devices might be shared with third-party advertisers, the security gaps widen further.
File and Folder Encryption protects Data in-transit, in-use, and at-rest.
With the SecureAge Security Suite your Data is Inherently Secure
Regardless where Data resides, encrypting Data, every file, every place, every time means if an attacker gains access to the raw Data, information will be meaningless. Protecting Data at the file level means encryption is an inherent property of your Data.
With the SecureAge Security Suite human intervention is not required to protect your Data
For years, Cybersecurity training has been made mandatory for our healthcare professionals and while this is a step in the right direction, the reality is with the ever-evolving attacks and new modes of healthcare such as telehealth, training just can't keep up.
Existing training and education programs for healthcare professionals will now need to include data handling to ensure development of necessary skills and competencies. Whereas with
PKI-based data encryption
, it works non-intrusively with existing applications and processes thereby allowing everything, and everyone to run as normal. You get 100% Data security right out of the box and your teams don't have to alter their existing ways of working or attend any more outdated, inefficient or ineffective training programs. Instead, they can focus on what matters most - the patients.
Check out
SecureAge Security Suite
for uncompromising and proactive data security.
Check out our
whitepaper
to find out more about our data security solution for the Healthcare industry.