SecureAPlus users upgrade FREE to CatchPulse
SecureAge Technology recently
announced the relaunch
and renaming of SecureAPlus which is taking place in May 2022. The new upgraded version is now known as CatchPulse. In this post, we would like to share with our existing home customers how this change will affect your SecureAPlus Essentials and Pro installations.
How do I upgrade to CatchPulse?
Once CatchPulse is available, you can
download the CatchPulse installer
from SecureAge's website (a Portal account is required) or through the
CatchPulse Portal
(previously the SecureAPlus Portal). You do not need to uninstall SecureAPlus. When you install CatchPulse on a device that already has SecureAPlus installed the upgrade will happen automatically and all of your existing security settings will be carried over.
Will my SecureAPlus Essentials or Pro license still work with CatchPulse?
Yes, SecureAPlus Essentials and Pro licenses are compatible with CatchPulse. In fact, as a token of our appreciation for our existing SecureAPlus customers, you will receive a complimentary license extension after you upgrade to CatchPulse.
The below table shows your license entitlements when you upgrade to CatchPulse: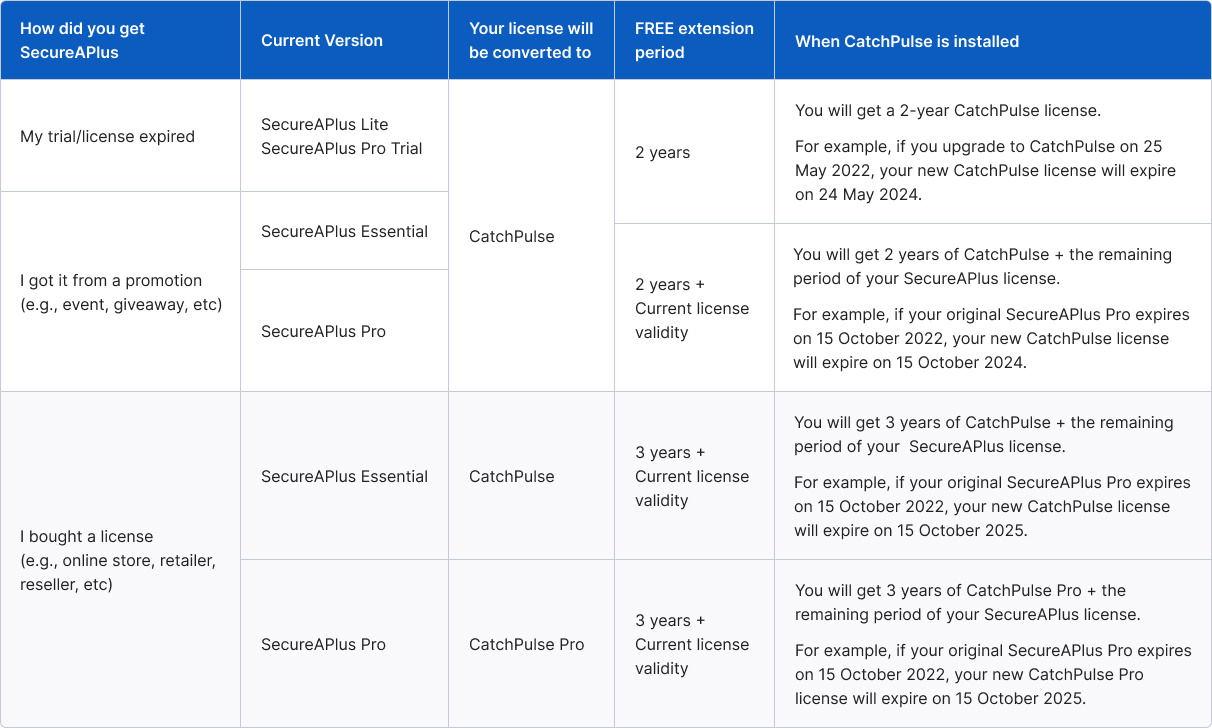 What happens to SecureAPlus?
SecureAPlus will reach end-of-life in Q3 2023. Until then, we will continue to release security and stability updates however all new features and enhancements will only be available on CatchPulse.
How long will the free license extension be available?
SecureAPlus will no longer be available for download when CatchPulse launches in May. All valid SecureAPlus licenses are eligible for the license extension when upgraded on or before August 10, 2022.
If you have any other questions about this upgrade please reach out to
CatchPulse@secureage.com
for more information.